Expert digital marketing and website services for ambitious dental practices.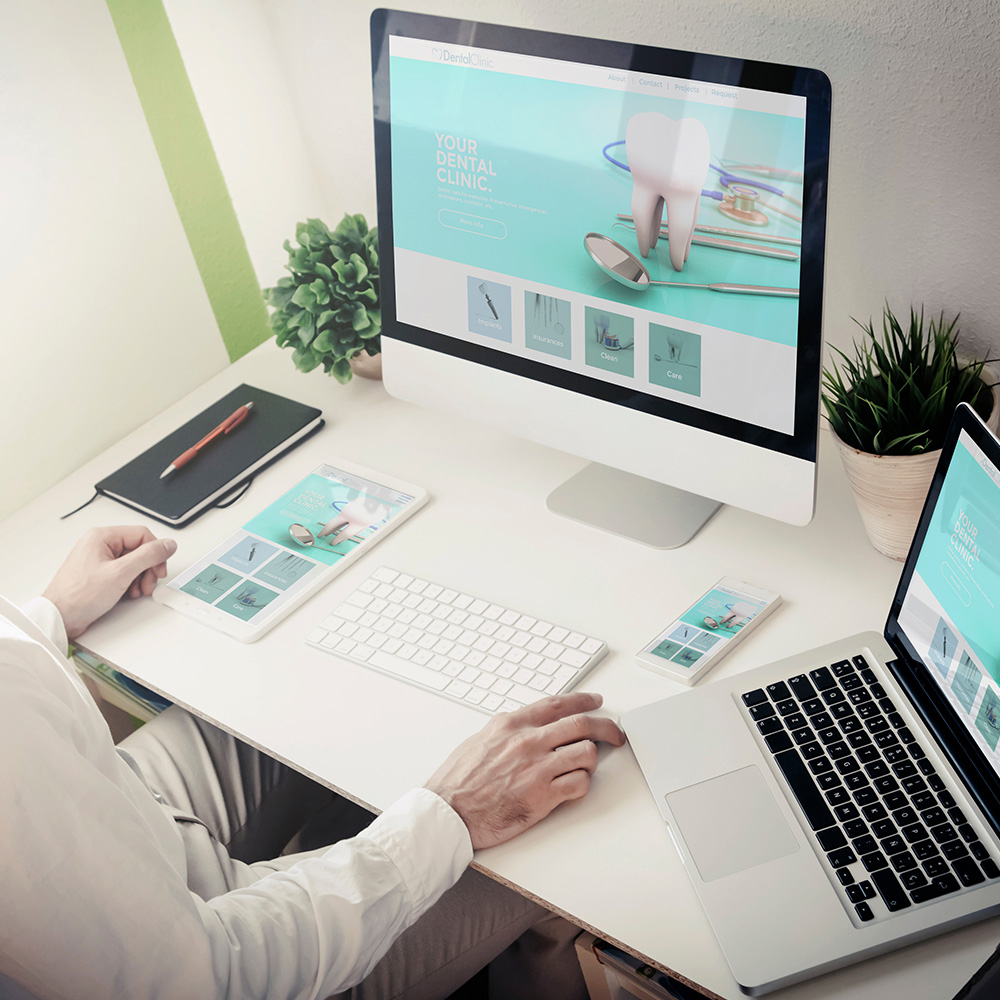 Weak marketing is standing between you and your dream clientele
In today's digital world, it's absolutely essential that your dental practice has a strong online presence if you want to achieve your growth goals.
If you don't invest in expert digital marketing, you're handing all potential clients over to your competitors. Patients won't be able to find you online, or when they do, they can't navigate your poorly designed website.
A subpar marketing strategy and an outdated website can:
Stop your practice from growing and reaching your ideal clients

Damage the reputation of your practice

Lose current patients to clinics with a more user-friendly online experience
A professional online experience, for a professional dental practice
There's nothing more frustrating for people who are in need of dental care than running into barriers in accessing the services they need online.
If you want to attract and capture your dream clients, you need to be easily accessible to them when they need you most.
Ensure your dental practice is immediately visible on search engines with a sophisticated website and a uniquely crafted marketing strategy tailored to reach your target audience.
With the help of our unrivaled digital marketing services for dental practices, you can create an online presence and user experience that reflects just how professional your clinic is.

Attract more organic website visitors
Rank higher on search engines, and get discovered by new patients.
Build an outstanding website:

Website development and design

Get discovered:

SEO services and ongoing website assessment 

Broaden your reach:

Blog writing and paid ad management

Gain more clients and generate revenue
Create a seamless online experience and make life easy for your clients.
Simplify booking:

Integrated online booking and contact forms

Professional support:

Optimize patient communication

Reliable websites:

Website hosting, management, and website backups

Improve your clinic's reputation
Ensure a strong and professional online presence that supports your practice.
Enhance customer trust:

Social media management

Engage online visitors:

Video production for content and testimonials

Streamline branding:

Branded websites, social posts, emails, and texts
As a dental worker, marketing isn't your expertise. That's where we come in.
You're the experts in providing exceptional dental care, but it can be difficult to gain clients without the right marketing strategy. We've helped countless dental practices across New York and beyond reach their target audience with tailored marketing solutions and premium website services.
IT support when your dental team needs it the most

Request a marketing consultation with one of our experts to discuss your current marketing strategy, or lack thereof, and determine what solutions you'll need to adopt so you can reach your growth goals for your dental practice.

We'll devise your custom marketing strategy developed with your unique practice and target audience in mind. Our focus will be on improving your online presence with consistent social media and content marketing, making your website more visible on search engines, and creating an effortless, reliable user experience for your clients.

Our digital marketing and website experts will implement your marketing strategies and create or improve your website in a collaborative process. You'll receive all the ongoing support you need to ensure your website is consistently performing and you're constantly expanding to generate more leads with expertly crafted content for blogs, social media, and email marketing.
Frequently asked digital marketing questions
Do you know your dental practice needs a marketing strategy, but you're unsure where to start? Don't worry, we've got the answers to your marketing and website questions here. Still have questions for us? Don't hesitate to get in touch – we're always happy to help!
How and when can we contact you if we have an issue with our website?
Our normal business hours are Monday-Friday, 7am-5pm. Subscribed customers can reach us by phone, text, email, or ticket portal for unlimited support during that time. We pride ourselves on building strong relationships with our customers. Every team member is personally familiar with the needs, requirements, and expectations of each individual customer. We can offer extended support hours, should you need them. Get in touch with a sales representative for more information.
My dental practice doesn't have a website yet, can F1 iT create one for us?
Yes! We look after everything from domain management, website hosting, website design, website development, website assessment, and ongoing website backups. We ensure you've got the most powerful website possible that ranks high on search engines and always functions smoothly.
My dental practice has an existing website, but it's in need of an update. How can F1 iT help?
We can assess your website for free to determine what changes you need to make in order to create a seamless online experience and rank higher on search engines. We can do everything, including SEO services, content refresh, diversifying websites with video content, website redesigns, incorporating booking forms, blog page development, and more. Get in touch to schedule your free website assessment today!
My dental practice has a website, but we want to change to a different website hosting platform. Is this possible?
Absolutely! Whether you want to transfer your existing website over to a different domain or start again from scratch with a fresh website on a new domain, our team of expert web developers can help you achieve your website goals in a stress-free, collaborative process.